BETTING FROM INDIA WITH LEGAL GAMBLING SITES & APPS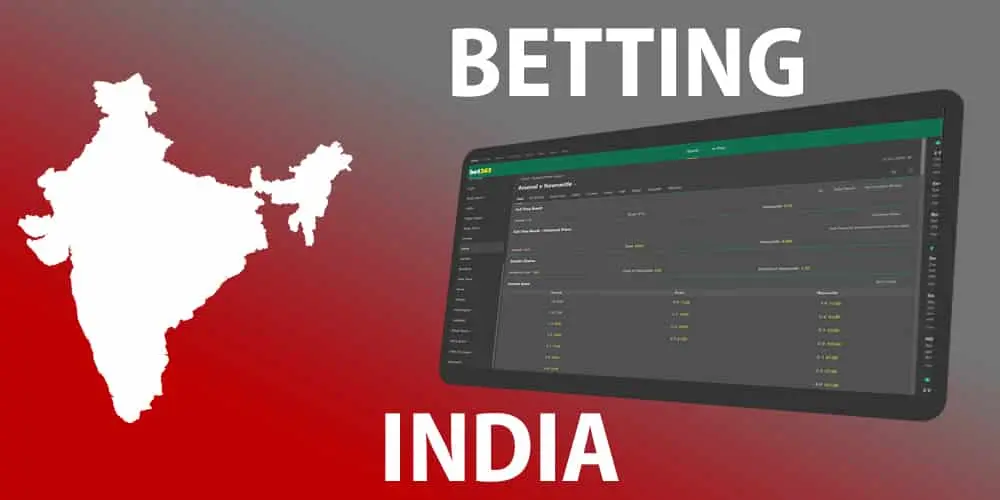 Betting from India is getting a lot more popular with sports fans in the country. Competitions such as the Indian Premier League are now among the most popular to bet on in India. But there is confusion about some betting from India rules and regulations. Legal betting from India is divided on a state level, which some people might find it quite hard to understand.
This is where we come in to help, offering readers all the information and guidance they need. We will review in the article the gambling landscape in India and pick the best legal betting sites.
-------------------------------------------------------------------------------------------------------------------------------------------
LEGAL BETTING SITES & APPS IN INDIA
Recommending the best sites and apps for betting from India is what we aim to do here. We have picked out all of the safest and most secure betting apps for Indian users. No matter what sports fans in India want to bet on, this is the place for legal betting sites and apps.
It is understandable why so many sports fans in India do not understand the country's laws when it comes to online gambling. After all, it is not clear if they even make any sense.
Unlike other countries that have introduced specific laws and rules around betting via the internet, India has yet to take this step. This is despite the fact that the popularity of using the web for gambling is growing at a rapid rate, with more and more people in the country doing this. The most important thing to point out here is the key difference between online and offline betting. There is regulation for the offline gambling industry in India, but not for online betting.
On the ground betting is not legal in India. While it is possible to find some places in the country that have offline betting available, this is breaking the law, which not everyone in India realises.
States in India are permitted to set their own rules and regulations around gambling. This is different to most countries, where there is nationwide regulation for the gambling industry. As a result, something might be legal in one state but illegal in the next state. It is no wonder that so many Indians just do not understand what is legal and what is illegal when it comes to betting.
Overall, though, the key thing to remember is that online betting from India is legal at this time. While there is a chance that new regulation could be brought in for the online betting industry in India in the future, this does not seem to be on the cards right now.
It is worth keeping an eye on the situation in the months and years to come, but now let's take a look at why online betting is legal in India.
-------------------------------------------------------------------------------------------------------------------------------------------
WHY IS ONLINE BETTING FROM INDIA LEGAL?
To explain why online betting from India is legal, it is necessary to go back in history to start with. The first rules surrounding betting in India were introduced with the Public Gambling Act of 1867.
The Public Gambling Act of 1867
Back then, the law only applied to the states of India that were under British rule at the time. However, changes were later made to ensure that the Public Gambling Act of 1867 was in place for the entire country.
Part of this legislation was a rule that banned being in charge of a public gambling house. Anyone in India who was found to be in charge of a public gambling house in contravention of the Public Gambling Act of 1867 could face a big fine - or even three months in prison.
However, as we mentioned above, it is now the case that states in India have the freedom to decide their own laws about the offline gambling industry. Goa, Daman and Sikkim are among the locations in India where bricks and mortar casinos can be found. They are very popular with both locals and tourists who are visiting on holiday.
The Indian gambling industry is worth some US$60 billion per year but only a chunk of that is from the casinos and other legal gambling sites in those states where betting is permitted. Instead, a large proportion of that US$60 billion per year comes from illegal offline betting.
This is widespread across India, but in recent years more people are instead choosing to bet online - which is legal - rather than break the law by opting to bet offline.
Betting laws in India today
So what is the state of play today? Well, both federal and state-level in India have some laws regarding the gambling industry.
The Information Technology Act was introduced in India back in 2000, with certain online activities banned as a result of the legislation. Neither gambling nor betting is mentioned in the act, though, which adds to the confusion surrounding whether or not online betting is legal or illegal in India. As a result of betting not being banned in the Information Technology Act - which is now more than 20 years old - online gambling is deemed to be 100 per cent legal in India right.
However, due to the fact it is so long since the Information Technology Act was brought in, there is a lot of talk that an update to the law is needed to acknowledge the rise of the internet. With the internet now a part of daily life for millions and millions of Indians, it is arguably the case that the Information Technology Act is no longer fit for purpose and needs to be overhauled. If that was to happen, it is likely that online gambling laws in India would come into sharp focus.
For now, though, online betting in India is legal, but on the ground gambling remains illegal.
What this means is it would be illegal to go to a physical bookmaker and place a bet on the outcome of a sporting event, for example a match in the Indian Premier League.
While these bookmakers do exist, they are illegal and it can be risky to use them as a result.
Internet-based betting in India
Instead, the safer option is to turn to the internet to bet on sports from all over India. However, there is another important thing to keep in mind about the status of betting laws.
Any betting sites and apps that are owned and operated by companies that are located in India are not legal to use for online betting. This means that people who want to bet online in India need to make sure that they use a company that has their base in another country. Most companies in the world of online betting have their headquarters in countries with favourable tax laws for the sector anyway, so this should not be too much of an issue.
Gibraltar, Malta and Curacao are some of the most popular places to base a betting company as it is financially favourable to set up in these locations as a result of their tax rules.
Foreign companies in the India betting industry
The betting sites and apps that are fully 100% legal to use from India for betting are the foreign companies, which are located outside Indian territory.
For example, if an Indian online betting site had its base in the city of Delhi, it would be illegal to use them for placing wagers on the top sporting events of the day. Again, this can be confusing for a lot of Indians who might not be able to understand why online gambling with foreign websites is legal while using an Indian-based site would be illegal.
But this is how the online gambling laws in India stand - at least for now, in most of the country.
Betting laws in Sikkim
Something else worth noting about betting laws in India is that the state of Sikkim has taken a different approach to online gambling. Sikkim opted to issue a license to Future Gaming Solutions Private Limited a few years ago.
What this meant was Future Gaming Solutions Private Limited, which is an online gaming operator, was permitted to offer online casino games to Indians for the first time.
It remains to be seen whether or not other states in India will follow in the footsteps of Sikkim. Betting laws can be a divisive subject, though, so most experts believe that the situation as it stands right now is set to continue for some time to come in most states around India.
FEMA currency laws
Another important note about online betting rules in India is that people must make sure that they stick to the Foreign Exchange Management Act (FEMA), which was introduced back in 1999. FEMA is a law that controls the exchange of foreign currencies in India. Betting online in any other currency other than rupees could be considered a break of the law as a result.
Using an online e-wallet - Skrill, PayPal and Neteller are popular options - are a good way for Indians who bet online to make sure that they stick to the FEMA rules about currencies.
-------------------------------------------------------------------------------------------------------------------------------------------
BETTING SITES IN INDIA - GAMBLING LICENSES
Gambling licenses are needed if online betting sites are to be legal to use in India. Various places around the world give out such licenses but some are deemed to be more trustworthy than others.
It is not necessarily straightforward to acquire a gambling license for a betting site. Failure to have a gambling license indicates that an Indian betting site is not to be trusted. Indeed, no gambling license might be a sign that they are a scam betting site.
Betting sites in India should display information about their gambling license clearly. It is the owner and operator of an Indian betting site that has responsibility for getting a gambling license. These details are usually shown right at the bottom of a website, while there might also be more information about a gambling license on their 'about us' page as well.
If there is no sign of a betting site in India having a gambling license, this is a big red flag.
Most popular legal betting licenses for betting from India
Here, we are going to take a look at the most popular legal licenses for betting from India
Curacao gambling license: This gambling license is one of the most common in the world of online betting these days. Curacao itself is a very popular location for companies within the sector to use as their headquarters as a result of its tax laws. A Curacao gambling licence is issued by the Curacao gambling commission, following strictly international gambling laws. Sites that have this Curacao gambling commission license are generally considered to be very safe and secure to use for Indians.
-------------------------------------------------------------------------------------------------------------------------------------------
GAMBLING LAWS IN INDIA
As we have already covered, gambling laws in India can fairly be described as ancient. It is an awfully long time since new laws affecting the gambling industry were introduced in the country.
It is not just the case that the gambling laws in India are widely considered to be out of date either. The gambling industry moves so fast that it is always going to be a big challenge for the law to be able to keep up, even if efforts are made to ensure that this is the case. In India, though, it feels very much as though a blind eye is being turned to the world of gambling.
This helps to explain why there is so much illegal betting that takes place in India. Despite the fact people are breaking the law, a lot of Indians do not see anything wrong with illegal betting.
Regulating the betting industry more effectively could be the answer, but that is easier said than done. There would likely be a lot of opposition towards a formal legalisation of online betting in the country, regardless of the financial benefits that increased taxation would likely result in.
With the world of online betting continuing to evolve, it feels almost impossible for the law to keep up. Even countries that have attempted to keep online gambling on a tight leash have struggled to get to grips with all of the latest developments within a highly changing industry.
For example, the last few years has seen the rise of live dealer games at online betting sites. Poker and other casino games like roulette and blackjack are widely available in a live dealer format these days, but games like Monopoly and Deal Or No Deal are also offered.
Most Indians would be baffled to think they can bet on Monopoly and Deal Or No Deal not too far into the past, but along with the likes of Andar Bahar and Teen Patti, these are now some of the most popular live dealer games that are available to be played in India right now.
Let's recap the key pieces of gambling legislation that are in place in India at the moment:
PUBLIC GAMBLING ACT 1867. This ancient law remains in place despite the fact the rules were crafted almost 150 years ago. Even though there have been a few more recent amendments, the Public Gambling Act of 1987 was made so long ago that it is virtually impossible for it to remain relevant when the world is so different today. As would be expected from a law published in the 19th century, it does not define online betting as illegal. This is the foundation by which online betting is legal in India today.
INFORMATION TECHNOLOGY ACT 2000. This piece of legislation, which was created more than 20 years ago, primarily deals with cybercrime. While the fact that it concerns the internet may lead some Indians to think that it would have something in it about the gambling industry and the internet, there is actually no mention of online betting at all.
State Gambling Laws. In India, states have the freedom to decide their own laws for the
gambling industry. This is due to the fact there is no central or federal law for the sector. As a result of this, several states in India have enacted laws on their own. These are valid only for the state itself, meaning that Indians who move to a new home will quite likely have to get used to a different set of rules and regulations for the gambling sector. Even if it is theoretically possible to ban online gambling, it does not work in practice. It is easy enough for Indians to circumvent the law, for example by using an IP address from a different state, indicating that the current gambling laws in India just do not work. Sikkim is among the states in India to have decided its own gambling laws, having given the green light for a company to receive a gambling license. Tamil Nadu and most recently Karnataka have followed suit with similar moves to Sikkim and this might well happen in more and more states in India over the months and years to come.
However, even when there are new laws being proposed for the gambling industry, there is no guarantee that the legislation will be passed. It is hard to introduce new laws for this sector, partly as it is controversial and there is so much lobbying that takes place on both sides of the debate. While headlines about new gambling laws are often being made in India, it is typically the case that they last for two or three months at the most before being rejected by a higher court.
Next up, let's take a look at some of the most recent examples of changes to India's laws.
The Tamil Nadu Case
The Tamil Nadu Gaming Act was first passed all the way back in 1930. Since that year, various amendments have been proposed to the law, with some of them passed and some knocked back. This is the case for all laws around the world, not just in India - it is not unusual.
But one of the recent amendments to the law proposed a ban on online gaming of rummy and poker with stakes. This would have been a massive change to the current laws.
People living in Tamil Nadu would therefore have been blocked from playing online games such as rummy and poker for money. As these are deemed to be games of skill, rather than of luck, it would have been something of a sea-change in the approach to online gambling laws in India.
However, despite the concerns of a lot of companies within the online gambling industry, the Tamil Nadu Gaming and Police Laws (Amendment) Act of 2021 was then knocked back.
The Madras High Court announced that Part II of the TN Gaming & Police Laws (Amendment) Act, 2021, was unconstitutional and therefore would not be passed into law as planned. Various private companies offering online games had filed written petitions against the law.
The decision from the first bench of Chief Justice Sanjib Banerjee and Justice Senthilkumar Ramamoorthy was widely expected, with the law not getting pushed through as proposed.
But that was not the end of the matter. The Tamil Nadu government has since stated that it has moved the Supreme Court against the Madras High Court over the online gambling law. It is claimed by the Tamil Nadu government that the law needs to be updated as a result of people losing money on gambling games that are currently permitted in this Indian state.
Former Law Minister C Ve Shanmugam has called on the DMK Government to approach the Supreme Court. By doing this, there would be the chance of obtaining an interim stay. It remains unclear right now what the end result will be of the Tamil Nadu Gaming and Police Laws (Amendment) Act of 2021.
While the government in Tamil Nadu appears to be very determined to force through the update to online gambling laws, it is highly likely that the industry will continue to fight back hard. Indians living in Tamil Nadu who like being able to bet on games such as rummy and poker will need to keep their eyes and ears wide open for new developments in this case.
It is expected that a lot of states across India will be watching closely to see the final outcome of the battle over the Tamil Nadu Gaming and Police Laws (Amendment) Act of 2021 as well. Should the Tamil Nadu government be successful in its aims to ban online betting on games like poker and rummy, it could have a widespread impact on India's gambling industry as a whole.
Other states might seek to follow in the footsteps of Tamil Nadu's government and push forward with their own attempts to bring online gambling laws into the 21st century.
This case is something of a landmark occasion for India's burgeoning online betting industry.
The Karnataka Gambling Bill Case
Tamil Nadu is not the only part of India where gambling laws are in the spotlight right now.
The Karnataka government announced recently that it intends to implement a new online gaming law with plans to push them through in the near future.
Home minister Aragra Jnanendra said in an interview that the plan was to make the changes to online gambling laws in Karnataka within the next couple of months. "The government has started working on the rules," the minister was quoted as saying by Economic Times.
However, as would be expected by a lot of Indians, various gaming companies are reportedly in the midst of preparing to challenge Karnataka's new gambling laws in courts as well.
This is a situation set to be replicated across India if changes to gambling laws are proposed. Companies in the gaming sphere are unlikely to sit back and watch laws go through updates unchallenged as it would have a big impact on their ability to do business.
The proposals to amend the Karnataka Police Act, 1963, would include a ban on all forms of gambling in the state. This would include online gambling, which would prevent Indians living in the state from being able to use the internet to bet on sports, as they currently can legally.
Indeed, all forms of wagering or betting "in connection with any game of chance" with the exception of horse races and lotteries would be banned if the change to the law goes through. Owners of gambling centres who broke the rules could face up to three years of imprisonment as well as large fines of up to Rs 1 lakh.
The most controversial part of the Karnataka Gambling Bill case is that games of skill would now be classed as acts of gambling. This is a significant development that could have a wider impact on India's gambling industry. But there is significant opposition to the proposal from a range of industry companies, including the Indian Gaming Federation (AIGF).
Reports indicate that Mobile Premier League, Games24x7, Gameskraft and Head Digital Works Private Limited have also filed writ petitions in an attempt to block the change to the law.
"Needless to say this burgeoning sunrise industry — our legitimate online skill gaming businesses, game developers and publishers — will be impacted," said AIGF's chief executive officer Roland Landers. "Several pro gamers' livelihoods will also be negatively impacted.
"We must remember that the Madras HC had recently struck down a similar act that tried to stop online skill gaming in the state."
All eyes will be on the state to see what happens with its proposals to ban online betting.
-------------------------------------------------------------------------------------------------------------------------------------------
LIST OF SCAM BETTING SITES THAT YOU HAVE TO AVOID
Regardless of online gambling laws in India being confusing for people, there are still plenty of scam betting sites that users should make sure that they avoid at all costs.
These scam betting sites in India are dangerous and cannot be considered to be safe to use for online gambling such as placing wagers on the outcome of the Indian Premier League. A betting site might be considered untrustworthy for a number of reasons, for example, because they lack the right licenses to ensure that they can operate legally within the industry.
Malta, the UK, Sweden and Curacao are among the places on the planet that are known for giving out gambling licenses to legit betting sites in India and around the world. Unfair bonuses, bad odds and difficulty withdrawing winnings are other key signs to look out for on scam betting sites in India.
Here is our list of the scam betting sites in India that you have to avoid to stay safe:
Dream11.bet
DreamExch
ProBet9
New betting sites can be added to the list of scam operators, so it is worth checking it out on a regular basis to see whether or not a betting site in India can be considered legit and safe.
-------------------------------------------------------------------------------------------------------------------------------------------
ONLINE BETTING FROM INDIA - GAME OF CHANCE OR SKILL?
As we have touched upon, the online gambling laws in India are quite complicated. One of the most important things to look at is the difference between a game of chance and a game of skill, as this denotes whether or not betting is legal or illegal in India.
Real money games of chance are considered illegal as a result of national laws in India.
This means a casino game where the outcome is truly random and the skill of the user has no impact on whether they win or lose would be deemed to be against the law. Sports betting is a game of skill, even though there is a lot of luck involved. As people can boost their chances of winning - perhaps due to research or simply their own knowledge - this means that sports betting is not deemed to be a game of chance like some types of casino games.
Slot games at online casinos, however, would be deemed to be a game of chance, not skill. This is because the outcome of a spin of the reels is pre-determined by RNG - a random number generator - with the player having no input over what happens after they bet.
While some people wrongly believe that they can tell when a slot is due to payout, this is not the case and the result of a spin is entirely down to chance. As a result of this, games like slots would not be deemed to be legal to play online in India.
On the flip side, a game like poker is obviously a lot about the skill of the player. Even though there is still luck involved as the flip of a card has a big impact on if a player wins or loses, how they come to make a decision over whether to call, raise or fold makes poker a game of skill.
While a complete beginner might be able to win a couple of hands of poker due to luck, it goes without saying that the more skilled, experienced players will come out on top more often. It can therefore be stated that the difference between a game of chance and skill is all about whether or not strategy plays a part. Strategy is certainly involved in a card game such as poker, where a player should have a plan for every single hand that they are dealt.
While some Indians might pick sports bets at random or go with their gut, strategy is involved too. It might just be looking at the form guide for a game in the Indian Premier League, but it is clear strategy plays a part in sports betting, so it is not considered to be a game of chance.
Roulette, however, is very much a game of chance. While some people swear by a roulette strategy, this is more of a staking plan rather than anything that increases their chances of being able to predict what will happen.
The spin of a roulette wheel is random therefore this is classed as a game of chance in India.
-------------------------------------------------------------------------------------------------------------------------------------------
THE FUTURE OF ONLINE BETTING IN INDIA
Arguments over the future of online betting in India continue to rage around the country. For some people, there is no problem with the situation as it stands - and it should continue as it is for the foreseeable future as a result. Others argue that India needs to bring in a lot more regulation of the online betting industry.
That could result in benefits such as money being raised through taxation. Formal legislation of online betting could result in a big influx of cash coming the way of the Indian government.
In other places around the world, bringing in more control over online betting has proven to be lucrative, so this is certainly a road that India might go down at some point in the future. It does seem inevitable that proper legislation for the world of online betting has to happen. Central or federal control over online betting in India is inevitable, according to many people. This might be years away rather than set to happen in the next few months, but it is difficult to see how the situation regarding betting via the internet can continue into the long-term.
With the Indian betting industry being estimated to be in the region of USD$60 billion, the sector can bring in a lot of money for the state, which has seen its finances hit in the last few years.
At the moment, with each state able to set its own rules and regulations around betting, Indians might find it harder to keep track of exactly what is legal and illegal in the country. After all, living in one state might mean some forms of betting are legal. But if a person was then to move to another part of the country, that same betting could then be against the law. While countries such as America also have differing laws regarding betting from state to state, it feels unsustainable that this could be allowed to continue for too long into the future.
Regulating the online betting industry in India could allow local-based sites to operate legally. This could both create new jobs in the online betting industry, as well as allow people who want to bet online the chance to support an Indian company, rather than a foreign business. More choice of legal online betting sites would also no doubt be a good thing for Indians too.
An increase in competition within the sector could lead to online betting sites that accept Indian players having to offer even better bonuses to tempt people to sign up for a new account. What is for certain is that TheTopBookies will continue to be recommending the safest betting apps and cricket betting sites for India users. No matter what happens with the future of online gambling rules in the coming months and years TheTopBookies is the place to be for anyone who has an interest in this industry.
Indians who want to make sure they abide by gambling laws in India stick with TheTopBookies.